Lozier Shelves available used in either a two position shelf or a multi position shelf at prices any business or store can afford.
Available in most popular sizes available at time of order,
Please specify need for multi position or two position shelves when ordering.
Two Position Lozier Shelf
2-position tilt-in shelf with extended bracket
Molding accommodates a 1.235" tag
1/4" perforations for clip on accessories
Multi Position Lozier Shelves
Multi-position drop-in shelf with extended bracket
Tag molding & perforations similar to TL Style
---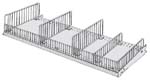 The solution for maintaining separation of school, office and art supplies. Dividers are 3 3/4" wide x 7 3/4" high x 6 3/4" deep. The dividers clip into front shelf perforations. Minimum product width is 6". End dividers are sold separately and in pairs.
---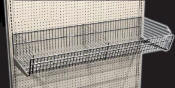 Is a binning system that can be configured as a Lozier Upper Shelf for single sided or double sided Lozier Shelving Unit
---

Popular upper shelf for snacks, candy and chips.
The advantage to wire upper shelves is the dirt falls right trough.
---
Available in a 24" wide and 48" wide by 13" deep shelf. Compatible with gridwall or slatwall knife brackets.